$199


Petition for Divorce
File for Divorce.
A Petition for Divorce officially starts the divorce process and puts the court and the other side on notice as to the terms you're seeking.
Begin Petition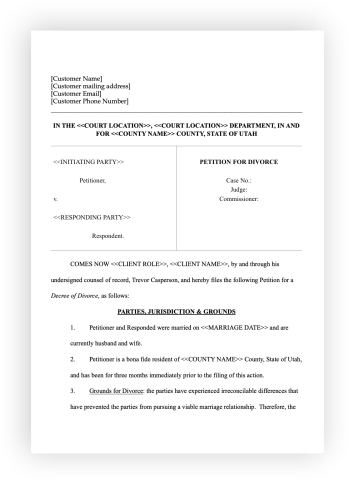 Document Overview
Filing a petition for divorce with a Utah District Court is the first step in the divorce process. It informs the court and your spouse of your position on, among other things, custody, parent time, alimony, child support and division of assets. This document must be served on your spouse as well.
You may have been thinking about getting a divorce for a long time, but the complexity — and the cost — may have held you back. Many people wonder how to get divorce papers in Utah to begin the process on their own. Regardless of whatever has propelled you to move forward with your plans to divorce at this time, Lawpal can help.
We provide the legal documents you need to file a petition for divorce — at a fraction of the cost of what you would spend on these same documents with a high-priced attorney. Utah residents are now easily able to complete this paperwork on their own, without the assistance of a high-priced attorney. Even if you think you may want an attorney, using Lawpal's attorney designed documents in your court case can give you a head start in your case before you hire an attorney. Let Lawpal make your attorney fees go further by spending it on things that really require an attorney.
Moreover, you can do it on your own time, in the comfort of your own home. There's no need to worry about making appointments with attorneys traveling to their office and spending hours telling them the facts of your case and making revisions and corrections to what they present. With Lawpal, you can ensure every aspect of the terms you are seeking in your divorce petition are what you want. You don't have to complete the divorce paperwork all in one day. Do it as time allows, then bring the final printed legal documents to the court to file it.
If you've already decided divorce is the right move for your family, let Lawpal make at least this one portion of your life easier with our legal document templates. Get started now!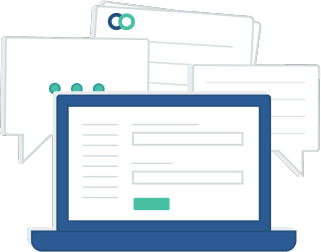 1
Answer a Series of Questions
Answer simple questions that will lead to the creation of your document. Come and go as you like, we'll always save your progress!
2
Purchase & Print Petition
Once your documents have been generated, review and print.
3
File Petitions
With personalized documents, you'll be able to go to your designated court and file the petition yourself!
4
Receive Spouse's Response
Once filed, you will wait for your spouse to respond in order for divorce proceedings to begin.
Frequently Asked Questions
How long does this process take?
The time it takes to complete your petition varies depending on certain factors, but it should take between 20 minutes and an hour.
What happens if my spouse doesn't respond to my petition?
If your spouse does not respond to your petition, you can file a motion for default judgement. This is offered by Lawpal, and more information can be found on the document page.
What's the difference between a contested and uncontested divorce?
An uncontested divorce occurs when a couple is able to reach an agreement on the division of assets and children before the trial. If an agreement can not be reached and there are one or more debated points, it becomes a contested divorce.
Once I've received my document, how soon can I file?
As soon as you'd like! Once you have verified that all of the information on your petition is correct, you can file that and any other documents with the court.
Are there any other fees to be aware of?
There is a required petition filing fee paid to the court.