$199


Divorce Petition Response
Answer a Divorce Petition.
Start here if you've been served with a petition for divorce. We will help you respond to your spouse's petition by creating an Answer document and provide you with your own counterclaim.
Begin Petition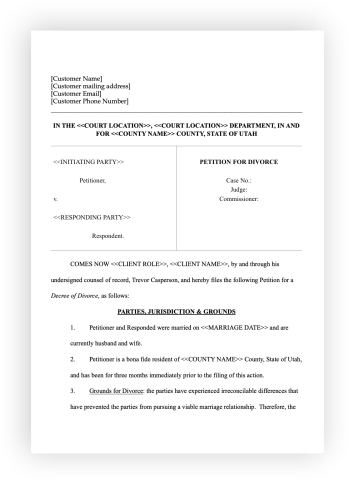 Document Overview
An answer to a divorce petition in Utah is simple. In this document, you will notify your spouse and the court which paragraphs of the original petition you disagree with and which ones you agree with. Anything you disagree with will have to be settled in court. Once you have answered the petition, you will have the option to file your own petition for divorce (also known as a counterclaim).
Divorces can be complex and expensive — sometimes needlessly so. Lawpal makes it cheaper and easier to get a divorce decree in Utah.
If you have been served with divorce papers, you typically have 21 days to respond. Don't put this off; if you do, your spouse might be able to get a default judgment against you that can cost you dearly.
Lawpal allows you to create the divorce documents you need to answer your spouse's divorce petition. It is important you read the divorce petition carefully and respond to each of the points made in it. The Answer sets the tone for your divorce and puts everyone on notice what you agree and disagree with. It is helpful in mediation,to easily and quickly point to the areas in which you disagree, which will help you more quickly get a resolution.
A copy of your answer must not only be officially filed with the court, but sent to your spouse as well. Instructions on how to get them or their attorney a copy should be included in the Summons you received.
After you have filed your answer, you may also want to file your own divorce counterclaim. This will help you get a divorce on your terms. Lawpal's makes it easy to create a counterclaim so that you can let the court know your requests within the divorce.
Once you're done with your answer and counterclaim, consider other legal documents Lawpal offers in Utah, such as initial disclosures or a motion for temporary orders.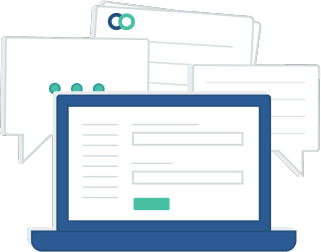 1
Answer a Series of Questions
Go through the questionnaire and mark whether you agree or disagree with the points made by the plaintiff. Then, you may draft your own counterclaim.
2
Purchase & Print Petition
Once your documents have been generated, review and print.
3
Serve Spouse with Response
After being served with the divorce petition, you will have 21 days to complete your response, file with the court and serve a copy to your spouse.
4
File Certificate of Service
After serving your spouse (typically the Petitioner) with your response, you should notify the court by filing a certificate of service.
Frequently Asked Questions
How long does this process take?
The time it takes to complete your petition varies depending on certain factors, but it should take between 20 minutes and an hour.
How do I file my response to my spouse's petition?
Once you have completed your response, file it by going to your county courthouse. Once there, you will file them and be given papers that need to be served to your spouse within a fixed period of time.
What happens after I file my response?
After filing your response, you will need to serve your spouse with your response. You can serve your spouse via regular mail or you can e-serve it if your spouse is registered for e-service in Utah. You should mail or email a copy of your answer and counterclaim to your spouse as soon as possible after filing.
Once I've received my document, how soon can I file?
As soon as you'd like! Once you have verified that all of the information on your response is correct, you can file that and any other documents with the court.